Choose course you want to
participate
Welcome to Edutech Certificate in Tourist Guide Course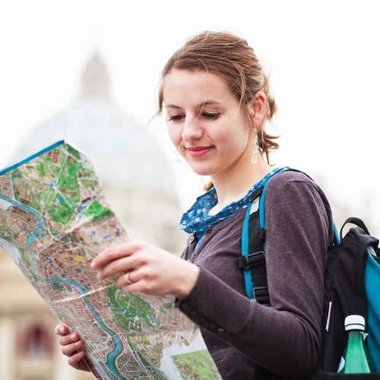 INTRODUCTION
Tourism is now the second largest industry in Malaysia, growing very fast and full of opportunities and potentials. However, in 2011, there were less than 5,000 active tourist guides available to help the 24.7 million tourists to Malaysia get the best out of the country.
Our Tourist Guide course aims to produce competent professionals who will make the country proud. A tourist guide provides assistance, information and cultural, historical and contemporary heritage interpretation to people on organized tours and individual clients at educational establishments, religious and historical sites, museums, and at venues of other significant interest.
Training programme is designed to give you the skills and knowledge necessary to maximum your career opportunities in the tourism industry, at the same time the expectations and requirements of the tourism industry. Most importantly, it enables students to get into employment quicker. The intricacies of tour guiding are also imparted to students through a practical overland training.
CAREER OPPORTUNITIES
You may pursue careers such as:
Tour Manager
Resort Representative
Part Time Tour Guide
Administrative Assistant Tour Guide
Visitor Attraction General Manager
Tourist Information Center Manager
ENTRY REQUIREMENTS:
Pass SPM/O-Level with minimum one (1) credit in any subject; OR Other Equivalent Qualification as approved by the Ministry of Education Malaysia
PROGRAMMES MODULE
Level 1:
Definition of Tourist Visitor Excursionist / Day Visitor and Tourist Guide
Roles of Tourist Guide
Function of Tourist Guide
Job Specification of Tourist Guide
Ethics of Tourist Guides
Characteristic of Professional Tourist Guides
Appearance, Cleanliness and Attitude
Type of Tour Guide
Main Task
Tourist Guide Main Task for Professionalism Tourist Guide
Prepare of Material
Level 2:
Definition and Communication Process Model
Basic and Principle of Communication
Technique for an effectiveness communication
Type of communication
Barriers to effective communication
Feedback / Response>
Audio Visual System
Public Relation
Complaint
Level 3:
Characteristic of Tourist
Type of Tourist
Country Letter Code
City Letter Code
Airport Letter Code
Airlines Letter Code>
First Aid Objective and Characteristic
First aid steps and Action need to be taken
Emergency Treatment Technique skill
Level 4:
Malaysia Tourism Policy
Introduction to Malaysian Legal System
Islamic Law
National Ecotourism Policy in Malaysia
Definition and Element
Maps, Latitude and Longitude
Greenwich Mean Time
Major Routes
World Climates
Latitude and Season
Temperature, Sunshine, Wind, Precipitation and Air Quality
Tourism and Transport Connection